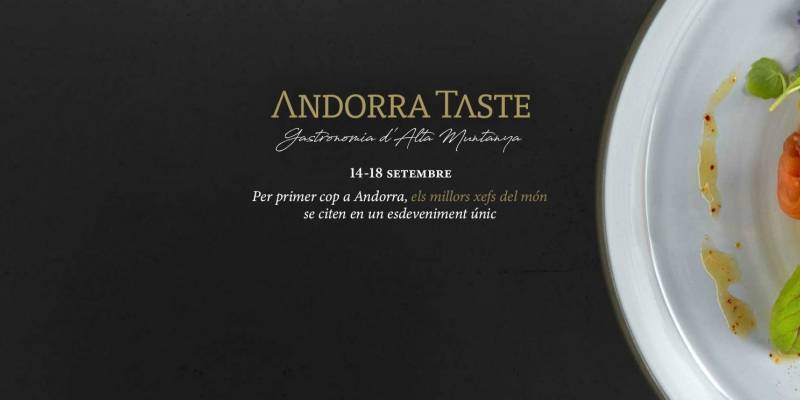 Sep 6, 2022
Andorra Taste: 1st International High Mountain Gastronomy Meeting
The Principality of Andorra stands out, today, as a tourist, sports, business, and even technological and digital destination if you focus on its last years of growth.
With the aim of positioning the country on the map of gastronomic destinations in the world, this year the Principality is celebrating, for the first time, the International Meeting of High Mountain Gastronomy. The first edition of the Andorra Taste will take place from September 14 to 18 and will bring together a hundred high mountain cuisine professionals from all over the world.
Highlight high mountain cuisine
As the event's website points out, high mountain cuisine is "unique due to the life difficulties and the natural environments in which it is developed", and Andorra Taste was born as a result. The meeting aims to praise high-altitude ecosystems as "cores of this natural life and identity based on concepts and values that triumph in global gastronomy", such as sustainability, authenticity, territory and local produce.
For professionals
Andorra Taste will host in Prat del Roure a whole series of presentations by chefs, producers, and other professionals of high mountain cuisine from September 14 to 16, and you can attend both in person and online by streaming. Both options require prior registration via web.
Speakers include Michel Bras, chef at Le Suquet (Laguiole, Aveyron, France), Mette Helbæk and Flemming Schiøtt, food stylist and chef at Stedsans in the Woods (Hyltebruk, Sweden), Ana Roš, chef at Hisa Franko** (Kobarid, Slovenia), Aníbal Criollo, chef at Naturalia (La Cocha, Nariño, Colombia), and Rodolfo Guzmán, chef at Boragó (Santiago de Chile, Chile).
You can also find "local" specialists such as Miquel Canturri, chef at Mínim's (Andorra la Vella, Andorra), Josep Maria Kao, chef at Kao (Soldeu, Andorra), Jordi Puy, co-owner of Les Pardines 1819 Mountain Suites & SPA (Encamp , Andorra), Jordi Grau, executive chef of Sport Hotels Resort & Spa (Soldeu, Andorra), Dolors Pal and Josep M. Troguet, chefs and owners at La Borda Raubert (La Massana, Andorra), Victoria Kemerer and Pablo Pérez, chef and sommelier at Kökosnøt (Andorra la Vella, Andorra) respectively, Marcel Besolí, owner of Celler d'en Toni (Andorra la Vella, Andorra), and Hideki Matsuhisa, chef at Koy Hermitage.
And for all lovers of good food
The gastronomic gathering will also open its doors in its most popular version from September 16 to 18 in carrer dels Veedors in Escaldes-Engordany. During these days there will be tastings of restaurants in the country, show cookings (culinary demonstrations) by the chefs participating in the professional and popular meetings, aulakids with different workshops for the little ones given by MasterChef Spain contestants, and varied live music. No registration is necessary for these sessions. You can check the different activities here.
Share