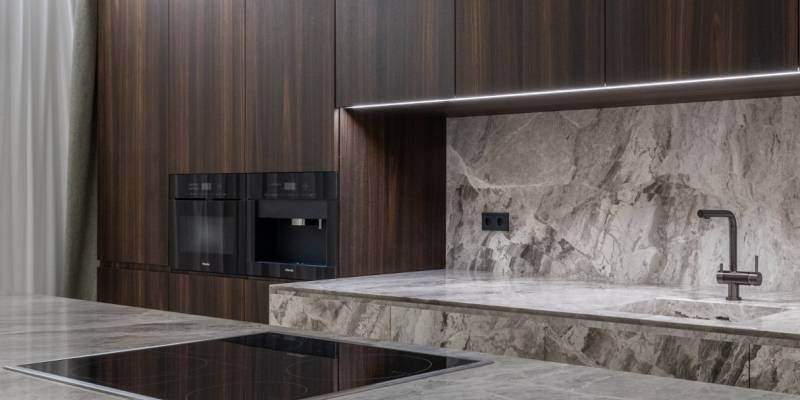 Nov 16, 2023
​ Exploring Options: Different Materials for Kitchen Countertops
The choice of kitchen countertop not only affects the functionality of your culinary space but also its aesthetics. Among the wide variety of options available, each material brings unique characteristics. Here, we present a brief guide on some popular materials for kitchen countertops:

1. Marble: Classic Elegance
Marble is synonymous with luxury and elegance. With its distinctive veins and natural colors, marble adds a sophisticated touch to any kitchen. However, it is important to note that it is more porous and susceptible to stains than other materials, requiring special care.
2.Wood: Warmth and Nature
Wood countertops bring warmth and natural charm to the kitchen. Ideal for a rustic or contemporary style, wood requires regular sealing to protect it from moisture and scratches. Its maintenance may be more intensive, but many kitchen enthusiasts appreciate its unique and inviting character.
3.Laminates: Economical and Versatile
Laminate countertops offer an economical and versatile option. Available in a variety of colors and patterns, they are easy to maintain and clean. Although they are more susceptible to scratches and heat damage, their attractive price makes them a popular choice for those with tight budgets.
4.Stainless Steel: Modernity and Durability
Stainless steel countertops provide a modern and industrial aesthetic. They are resistant to heat, stains, and bacteria, making them a popular choice in professional kitchen environments. However, they can easily show scratches and fingerprints.
5.Granite: Lasting Beauty
Granite is known for its durability and natural beauty. Resistant to heat and scratches, it offers a wide range of colors and patterns. Although it may be more expensive, many consider its longevity and unique appearance worth the investment.
6.Silestone: Quartz Innovation
Silestone, primarily composed of quartz, combines the durability of granite with modern design options. It is resistant to stains and scratches, easy to maintain, and available in a variety of colors and textures.
7.Porcelain: Resistance and Style
Porcelain countertops offer resistance and contemporary style. Known for being durable, heat-resistant, and stain-resistant, their variety of designs and colors makes them a versatile and attractive choice.
Before making a decision, consider your aesthetic preferences, maintenance needs, and budget. Each material has its advantages and disadvantages, so choose the one that best suits your lifestyle and makes your kitchen a functional and appealing space.
Share