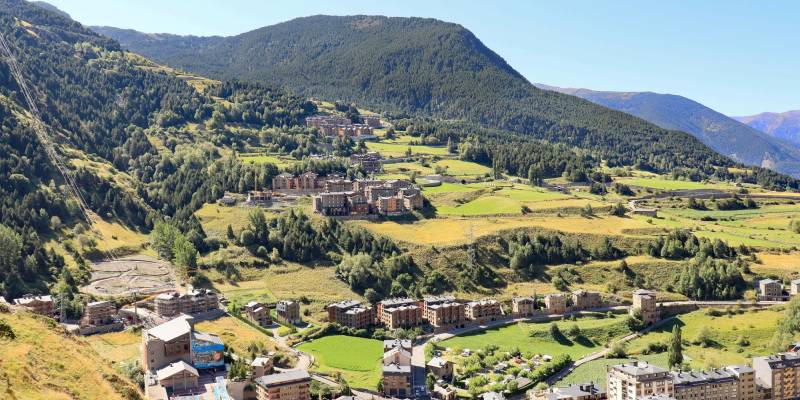 Jun 27, 2022
Canillo
Useful information and geographical location
Canillo is the first of the seven parishes of Andorra according to the protocol order, since it is the largest in terms of territory, with a total of approximately 120 sqm. It is made up of the urban center of Canillo and the towns of Soldeu, Incles, El Tarter, Ransol, Aldosa de Canillo, Molleres, Prats, Les Planes and Meritxell, a town that houses the National Sanctuary and the patron saint of the Principality of Andorra.
The parish of Canillo is located in the northeast of the Principality of Andorra and borders the parishes of Ordino and La Massana to the west, and Encamp to the south, as well as naturally bordering France. It is the parish with the highest altitude in the Principality and stands out for having a magnificent balance between quality tourism and tranquility for residents.
Attractions
Canillo is an ideal place for any type of family nucleus: all kinds of services such as bakeries, supermarkets, restaurants, sports centers and public transport are within easy reach and within walking distance. In addition, it can be a very attractive destination to establish your residence if you are looking for a family place. Canillo has infant and primary schools, numerous green spaces and parks for the little ones, as well as the well-known Mon(t) Mágico Family Park or the Ice Palace, where they can practice sports after class.
Grandvalira, the largest ski area in the Pyrenees, has a large part of its ski area in the parish of Canillo, divided into different sectors such as El Tarter or Soldeu. In summer, Canillo offers multiple possibilities to enjoy the natural environment and the mountains, such as via ferratas, hiking trails, lakes, or the recently inaugurated Pont Tibetano, the longest in Europe (and the second in the world) with more 600 meters long.
For lovers of culture and learning, Canillo can offer you two Romanesque churches, Sant Joan de Caselles and Sant Serni de Canillo, and the new Meritxell Sanctuary by Ricardo Bofill, which mixes the Romanesque style with Islamic architecture and the Renaissance. You can also find the Motorcycle Museum.
Real estate situation
The urban center of Canillo has remained very similar in recent years in terms of growth and real estate construction. Instead, the real estate constructions have been distributed by nearby or adjoining towns, such as El Forn or Prats, or even El Tarter, a town that is undergoing a great evolution to end up becoming a complete winter wonderland.
If you dream of a well-connected property, where you can drop off your children at school on foot and have a coffee on the way back, the urban area of Canillo or El Forn are the perfect destinations. If, on the other hand, you are looking for the comfort of a nearby communications hub but prefer a quieter place to live and one step away from the hiking and skiing trails, El Tarter, Ransol or Soldeu are for you.
Share