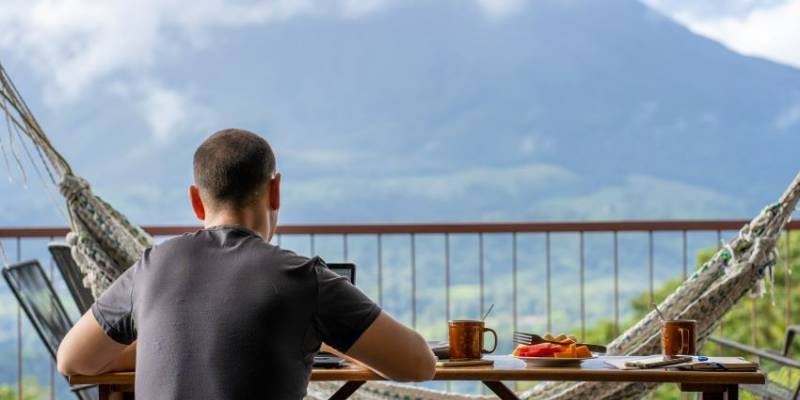 Jul 12, 2022
Digital nomads
Digital nomad: what it is and why Andorra is a good option
Traditionally we have understood nomadism as that life system of some human groups that move periodically or constantly from one place to another, and even that these nomads were especially dedicated to hunting and grazing. Nothing to do with what we can understand today from this word.
Already existing before the year 2020 but highly enhanced by the COVID-19 pandemic, the digital nomad is that person whose work nature allows him to work 100% remotely, from anywhere in the world, with a single essential: connection. to Internet. The digital nomad decides where, how, and when he works. A great opportunity to be able to live traveling while working, or simply because you are not necessarily tied to a single territory.
Despite the fact that there are many public and private companies that have made their working conditions more flexible after the pandemic, and that hardly any of them will return to 100% face-to-face work, few will be able to offer a level of flexibility as high as the one that it provides itself with its own company or by offering its own specialized services. A case of a private company to highlight is that of Airbnb.
Why Andorra?
In recent years, Andorra has been a star destination for digital workers. Some popular profiles that we can find are graphic designer, community manager or social media specialist, programmer and web designer, online teacher, photographers and videographers, etc.; not to mention the already well-known youtubers.
But, what are the real reasons that make a digital nomad choose Andorra?
Internet connection. Despite the latest news of cyberattacks, the Principality is among one of the countries with the fastest internet connection, more specifically, in fourth place in the world, according to a study by cable.co.uk.
Opportunities. Despite the apparent modernism of the Principality, residents were able to verify how the pandemic was the only one capable of making many small and large businesses in the country open a user-oriented and functional website. In other words, Andorra is in an ideal breeding ground to welcome professionals specialized in digital and development areas.
Stability. Andorra stands out for the stability of its political and institutional system, and offers a perfect balance between the dynamism of an active and cosmopolitan city with more than 100 nationalities, and the tranquility of the mountain areas where you can practice sports and relax. Whether you prefer to live near the ski slopes, or if you are a city soul, at RS Thomas Real Estate, we have the perfect property for you.
Share