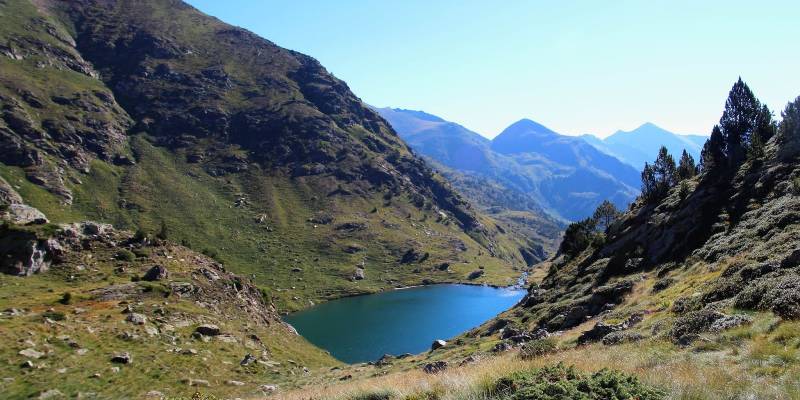 Feb 10, 2023
6 places to visit in Andorra
Andorra is one of the smallest countries in the world, but one that leaves all its visitors speechless, and its mountainous landscapes and the nature that covers 90% of the territory evoke tranquility and disconnection in its wake.
Thanks to the wide variety of activities that Andorra offers, both in summer and winter, it will ensure that you always have something to do. That is why in this blog we want to introduce you to six places to visit if your next destination is this small country.
Naturland, located in the parish of Sant Juliá de Lória, is an essential stop if you are traveling with the smallest members of the family. This adventure park has a wide variety of activities from launching down the Tobotronc, the longest nature slide in the world, to driving buggies and airtrekking.
If you prefer to disconnect after a long day, whether with family, partner or friends, Caldea is your place. This recreational thermo center is distinguished by its thermal waters, which thanks to their natural use are very beneficial for the body, producing anti-allergic, healing and decongestant effects.
If you like to get away in the mountains, you cannot miss the opportunity to visit the Pont Tibetà located in the Vall Del Riu valley, in the parish of Canillo. This impressive minimalist structure, located 158 meters above the ground and with a length of 603 meters, has become one of the longest bridges in the world.
A few minutes from the Pont Tibetà you can also enjoy the fantastic Roc del Quer Viewpoint. The panoramic views that it offers of the parish of Canillo do not leave its visitors indifferent, since it is made up of a 20-meter walkway suspended in the air and a transparent glass pavement.
If you have a price to visit Andorra during the summer season, you have to make a stop at the Tristaina lakes. The three lakes that make up this Pyrenean glacial cirque are ideal for enjoying a first family mountain experience. The route is based on a circular layout of 4.4 kilometers with a maximum elevation at 2,330 meters of altitude, which is where the last lake is located.
Finally, we could not end this blog without mentioning the Tristaina Solar Viewpoint. This spherical-shaped viewpoint located at an altitude of 2,701 meters stands out for being an architectural work from which you can fully enjoy the mountainous landscape of Andorra. It is an ideal place to enjoy with loved ones surrounded by the tranquility and nature that this landscape evokes.
Share